Boarding at Rover Stay Over
Good news! There's no need to feel guilty about leaving your pup behind when you go on vacation. Booking overnight stays at our dog resort near Bellingham, WA is just like booking a vacation for your pups, too!
"Thank you, Rover Stay Over, for taking exceptional care of our pups while we were away! We wouldn't trust them to stay anywhere else!"
Roxie M.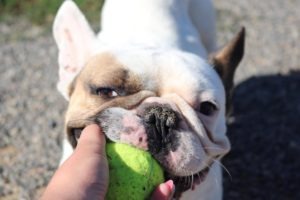 Our dog care specialists are famous for doing everything they can to ensure each guest is safe, happy and healthy in their home away from home.
If your dog needs meds, we'll administer them (for free!). If your puppy needs extra help with socializing, we'll set them up with appropriate play buddies and help them make new friends.
If you'd like your dog to have extra snuggles or a country walk or a peanut butter Kong at night, no problem. You can order extra treats for your puppers when you book an overnight stay!
Your fur babies will be treated just like family when they stay overnight at Rover because we cater to the unique needs of each dog who stays with us, just like you do when they are at home.
"Our family planned a nine-day trip to Hawaii and I was so leery to leave Jersey anywhere, but I decided to try Rover Stay Over after hearing positive reviews. All I can say is this place truly cares about your pets."
Kelly P.
Features of overnight stays for dogs near Bellingham
• Open daily, by appointment only
• Overnight, weekend or long-term stays
• Safety of overnight guests is our top priority
• Multiple exercise sessions each day
• Play buddy assignments upon request/as available
• Activities provided by energetic dog care specialists
• Rural setting on 5 acres near Bellingham, WA
• Large outdoor exercise areas, fully-fenced and secure
• Complimentary medication administration
• Super clean accommodations
• Use of dog-friendly, people-friendly and environmentally-friendly cleaning products
• Climate controlled building
• Individual and family accommodations
Overnight guest tip: Maintaining the dietary choices you've made at home can help enhance your dog's overnight experience. Please bring along their favorite food (labeled with their name) so our dog care specialists can serve it to them in their private home away from home.
It's easy to book boarding stays online. Just log in to Gingr to get started. To make grooming appointments, please call us at 360-306-5931.
"I knew my dog was being cared for by people who genuinely loved dogs and were equipped to give great care to my pet."
Rover Rave