Day camp for dogs at Rover Stay Over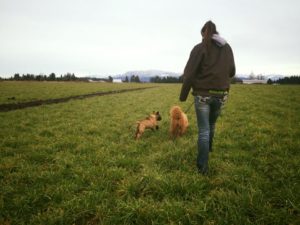 Treat your dog to a half-day or full-day adventure in the country!
Your canine companions will love exercising and socializing with people and other pups at Rover Stay Over, a rural resort for dogs located between Lynden and Bellingham, WA.
For dogs who are stressed out or sometimes naughty when left at home alone Rover is the answer. Our day camp guests receive a ton of exercise and mental stimulation at our premier pet resort.
"As soon as Goose recognizes Rover, his little booty starts wiggling like crazy and he can't wait to get through the doors."
Annie F.
Yep. They bark with excitement; their tails will wag as soon as you pull into Rover Stay Over! It will put a smile on your face every time because you know your pup is about to have a great experience at our trusted and recommended resort for dogs.
Schedule a tour or make a reservation today!
"Rover Stay Over is the very best. We walk in the door and are greeted with smiles and professionalism. Our dog loves to go there to play. I always know Arnold is in the best of hands because this is his second home and family."
Tessa R.
Features of day camp for dogs near Bellingham
• Open daily, by appointment only
• Half-day or full-day camp sessions
• Safety of camp guests is our top priority
• Multiple exercise sessions during each stay
• Play buddy assignments upon request/as available
• Camp leaders are energetic dog care specialists
• Rural setting on 5 acres near Bellingham, WA
• Large outdoor exercise areas, fully-fenced and secure
• Complimentary medication administration
• Super clean day stay rooms
• Use of dog-friendly, people-friendly and environmentally-friendly cleaning products
• Climate controlled day camp building
• Individual and family accommodations
Camper tip: Maintaining the dietary choices you've made at home can help enhance your dog's experience at day camp. Please bring along their favorite food (labeled with their name) so our dog care specialists can serve it to them in their private day stay room.
It's easy to book boarding stays online. Just log in to Gingr to get started. To make grooming appointments, please call us at 360-306-5931.